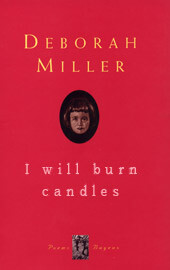 By Deborah Miller
© Copyright 1995

Publisher
Bayeux Arts Incorporated

ISBN
1-896209-16-5
5.25" x 7.75", 96 pages
These are emotionally charged poems that are filled with real people trying to live somewhere safe. Deborah Miller is not afraid to confront difficult subjects and she doesn't pull up but confronts the reader with the full force of her poetry. It's hard to believe this is a first book—the poems are so right, so challenging. They'll make you angry. Sometimes they'll cause you to laugh, but more often they'll bring you to tears. Her poems force you to care about the people in them, as all good poems should. They are filled with lives you can't look away from, for they may be just like yours.
— Robert Hilles, Governor General's award-winning poet
Deborah Miller's poems search for connection. They shift us back and forth across those borders between the domestic, the international and the historical, trying to knit that internal, daily space with the incomprehensible brutal design of the bigger world. I like her confidence with language, her dips into play and exaggeration, her respect and decency and passion when she has to confront some hideous aspect of our times. I get the feeling that she has to speak out, that even if she wants to, she can't just turn away and go back inside her safe house. She is a poet with character, presence, passion and skill—a delight!
— Nancy Holmes, award-winning poet and author
The poetry of Deborah Miller entices you into the maddening paradoxes of the contemporary world where family dinners and prom, genocide and childhood memories, pop icons and abuse jostle against each other in bristling language. The poems veer into dark corners of the self, emerging at odd angles, and crying out in both horror and sensual delight. Deborah Miller's poems are both surprising and shocking but dead-set on revealing a unique vision of our world.
— Peter Stevens, former poetry editor of The Canadian Forum and The Literary Review of Canada
City poet takes us through the hills, valleys of life
Patrick Rengger — Calgary Herald Poetry Review
I Will Burn Candles, by Deborah Miller (Bayeux Arts Press, $13)
Audre Lorde once famously said that "poetry is not a luxury," though of course sometimes the relevance of poems to quotidian life is hard to see.
When it works, however, poetry brings to new life the things around us that we take for granted, and grants us insight into those corners of life that we haven't looked at before.
In every sense I Will Burn Candles is a beautiful book. It is beautifully produced by Calgary's Bayeux Arts Press and is full of gems of writing.
This is Deborah Miller's first book of poetry, though she is by no means a beginner; and the Calgary poet has managed to bring off something remarkable.
She takes us through the hills and valleys of life, family, children, sex, love and domesticity, and adds for good measure Linda Lovelace and the Holocaust. We find ourselves shocked, saddened, laughing and, yes, even turned on.
Family dinners and porn, mass murder and making love all sit side by side in this book, sometimes in the same poem, and this diversity and the surprising turn from one space to another are among the principal strengths of the writing.
Miller has a clear eye for the absurd, and a delicious sense of humor, self-deprecating and wry, which can turn into a laser of accusation in an instant and bring the reader up short.
Poems like "Linda Lovelace" and "I Will Burn Candles" tell of the horrors, and the reactions of one person to them, in language taut and spare as piano wire, leaving images and words in the reader's mind circling like crows around carrion.
In other poems, such as "Waiting For Daddy," "Home Cooking," "Kamikaze Baby" and "Cradle Song," Miller explores the joys and otherwise of having parents and being one.
Nearly all of these poems work and are a pleasure to read, because the poet is writing to us and for us of things that we have all touched, however glancingly. On the rare occasion that she misses her mark, such as with the poem "Before Dinner," Miller does so because her words can't quite catch up to her humanity.
Miller uses straightforward forms and language and refuses to play academic poetry games with us.
This is not poetry written to be deconstructed, but to be read, read often and read aloud by people who live fully in the world and struggle with its inseparable mix of pain and pleasure, ugliness and beauty.
(Rengger is a Calgary writer.)