Presentations
Presentations of "Grumblies" and "Jitters"
for Children/Parents/teachers/librarians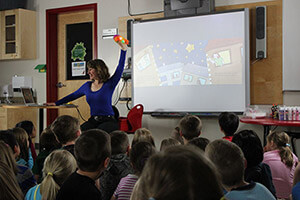 Goal: By dealing practically and playfully with difficult emotions, adults and children can spend less time and energy dealing with anger and anxiety and more time and energy playing and laughing together.
Method: Through an interactive presentation of Grappling with the Grumblies and Juggling the Jitters, Deborah Fannie Miller offers a fresh perspective that builds confidence and gives children and caregivers effective tools for dealing with disturbing emotions. For presentation outlines or for the scheduling of presentations for schools (K through 3), or for Teachers, Parent groups, or Librarians, please contact Deborah at [email protected]
As a trained actor and singer (BFA in Drama from Scripps College in California, post graduate work at the Goodman Theatre School in Chicago, Alum of both The Opera and Music Theatre Programs at the Banff School of Fine Arts) Deborah brings a love of performing as well as performing expertise to all her presentations.
Testimonials
I loved the book Grappling with the Grumblies. I would actually love to read it to my 16 year old! The students were very engaged in your presentation. It was interactive. Using the props made it more exciting. Thank you so much for sharing your wonderful stories with us today! ☺
— Ms.Cooper – Grades 1/2
– Very interactive (allowing students to move around and repeat certain phrases throughout the stories allows them to be "actively" listening)
– Very familiar subject matter (everyone has been through a grumpy/jittery day)
– Great story teller
— Ms. Grummett – Grades 1/2
Great presentation. Very interactive with the students. They really liked both books!
— Kris Wright – Grades 1/2
Good subject to cover with young students. Very animated (especially when reading her story) and good at making connections / relating to their own life experiences. Including the students in the story reading and the use of props is a great way to keep them engaged. It is so good to see someone reading with such enthusiasm! Especially since it's only usually the classroom teacher.
— Sara Rumpel – Grades 1/2
It was delightful. Deborah held the attention of the students. They were hooked on the story. The students enjoy the actions a lot and that helped to keep their concentration. Deborah is not only a good writer but also a good storyteller. Thank you! It was very entertaining.
— Aletta Stols (sub- teacher) – Grades 1/2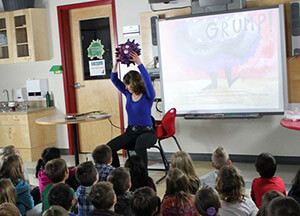 Thank you so much for sharing your stories with so much enthusiasm! The students really enjoyed listening to them! I think the topics of your stories are so important for elementary aged kids. Thanks for showing them different strategies and for keeping them moving!
— Molly Ramsden-Wood – Grades 1/2
Loved your book. A great description of "Grumblies" that the children can relate to. Great ways of getting the children to participate in the act of storytelling. The strategies can be used at home and at school. Thank you ☺
— Carolyn Patton – Kindergarden
Deborah is a very enthusiastic presenter and the children were fully engaged and entertained. I also like the message of the story.
— Maeghan Clancy – Grades 1/2
Fantastic! Really liked how interactive it was for the students. This interaction engages them and brings them into the story. Great!
— Erin McCartney – Kindergarden
Deborah's story telling presentation was colourful and memorabe! The students loved her user of props to accompany the text. The language of "Grumblies" and "Jitters" is perfect for describing emotions within a child's vocabulary. We have since enjoyed these books and referenced them in our class room.
— Sandy McCullach, Olympic Heights School
I loved the use of the smart board as it allowed the children to see the pages while in a large group environment. Deborah's tone of voice was wonderful and the children were very engaged in the presentation. Her language and demeaner were lovely. The children enjoyed the content in the books and the content was appropriate for young children. I also enjoyed her use of props and including interactive movement breaks for the children.
— Debbie, Olympic Heights School
An amazing event ... She captured me as well as the students. I will recommend her to everyone I know. Thank you Deborah ... Not just a grade one event but a presentation that would benefit many grade levels.
— Noel Fennerty, Olympic Heights School
You were enthusiastic. Great use of imagination and getting the kids involved.
— Debbie Olympic Heights - Grade 1
It was great to see/hear a local author read their own story. Overall, the presentations were so much appreciated by all!! Thank you so much!!
— Deborah Hercun, Kindergarden
Loved your book. A great description of "Grumblies" that the children can relate to. Great ways of getting the children to participate in the act of storytelling. The strategies can be used at home and at school. Thank you ☺
— Carolyn Patton – Kindergarden
"I was a guest reader in two primary classes this past week for literacy week at a local school and I read Deborah's book. The kids enjoyed it soooo much! What a great story with such a positive theme. The kindergartens acted out the parts where Jessie and mom were getting their grumblies out. It was adorable!" Please pass this on to Deborah as well. I can't wait to share it with Zoe too :)
— Danielle H. Victoria, BC
'Grappling with the GRUMBLIES' is a fun book that encourages children to talk about their feelings. We don't all wake up feeling great or just fine each day. The book reminds us as parents and teachers to slow down and to take time to acknowledge children's feelings. It also reminds us that a sense of humour and a little silliness go along way. This story can get the whole class moving, shakin' and chasin, the GRUMBLIES away.
— Monica, Kindergarten teacher, Edmonton, AB
Poetry Readings
Deborah loves to read! She creates a warm, inclusive atmosphere through her revealing, often comic poems about childhood, adolescence, love, sex, parenting, and loss. Deborah's poetry presentations are great hits with teachers, parents, and women's groups of all ages, inviting lively discussions about how we navigate through life while the ground is constantly shifting beneath us. Even though we don't usually think of reading poetry for a book club, here are five great reasons to think about doing so:
Poetry books are often short, quicker reads than novels.
Poetry and wine were made for each other.
Poetry and cafés are a match made in heaven.
Poetry gets down to a deep level fast, so in a group, bonds strengthen.
Poetry naturally makes people think outside the box, so creativity flourishes.
For more details and suggestions contact [email protected]